Open Evening Success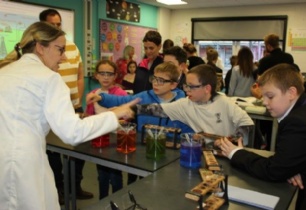 On Wednesday 26th September, we welcomed visitors to our annual Open Evening.
Once again, the event was very well attended. Activities organised by every subject area in the academy were many and varied, ranging from dissections in science, to coding your own program in computer science. English staff dressed up in amazing costumes for the
Gothic Room. During the evening they also staged their very own murder mystery show.
In the food tech department a soup kitchen was set up, with samples for visitors to try, as well
as a selection of bugs for the Bush Tucker Trial. There were also some fantastic dance, cheerleading and PE demonstrations from our students in the sports hall and dance studio.
In mathematics visitors were asked to make their own mocktails using ratio and proportion to help make them. Visitors were welcomed by some interesting characters in the Egyptian maths room also.
We would like to thank parents and pupils who attended the evening which was a great
success, and we welcomed some positive feedback.
Thank you to staff and our student helpers for their support as always.