Students enter Future Chef competition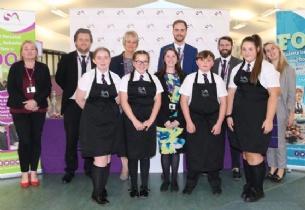 On Thursday 17 October, the Food Department hosted a Springboard FutureChef School Heats Competition!
This national competition is comprised of 4 stages- school heats, local finals, regional finals and the national finals.
Students had to complete a letter of application and submit a two course meal of their choosing, to be selected for this stage of the competition.
We thank them all for taking part in the first stage of the FutureChef competition, and to the staff whose support and enthusiasm has made this first year of running the competition a success. It was a highlight to hear such praise for the students hard work and encouragement in this great opportunity.
Hopefully this success can continue in future years but most importantly with stage 2- The Local Finals!
Winners -
Lucy Senior (Year 9): MENU
Main- Mozzarella stuffed chicken finished in a herb crumb, served on a bed of steamed tenderstem broccoli, with chantenay carrots & chips.
Dessert- Chocolate chip cookie cheesecake, served with warm chocolate sauce.
Connor Ryan (Year 9): MENU
Main- Seasoned chicken breast, served with garlic and chive hassleback potatoes, green beans and carrots
Dessert- A classic apple crumble served with fresh cream
Runners-up -
Abigail Houghton (Year 9): MENU
Main- Gourmet burger, served with chunky chips & mayo
Dessert- Cookies & cream Oreo cheesecake
Maddie Hargate (Year 9): MENU
Main: Bubbling hunters chicken, served with chunky chips & homemade coleslaw
Dessert- Spanish style churros, served with a warm chocolate dipping sauce