Academy receives award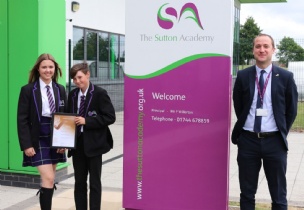 The Sutton Academy awarded a Pearson National Teaching Award.
We are pleased to announce that The Sutton Academy has been awarded a Pearson National Teaching Award – The 2021 Lockdown Hero Award for Learner and Community Support.
Over the last 12 months, and especially during the periods of lockdown, our families have experienced hardship and suffering on an unprecedented scale. The academy and the community have worked in partnership to ensure that families can see there is a bright future at the end of the pandemic.
"We are incredibly proud of how the community came together to support each other during the recent lockdown. We have had donations of sanitiser and electronic devices from parents and other members of the community to ensure the students could access their education. Staff have gone above and beyond, including making PPE for front line workers, continuing with an outstanding level of pastoral care and providing doorstep rewards for students to ensure their efforts in home learning didn't go unnoticed. The award is a credit to everyone associated with the academy." Paul Willerton, Principal.