Year 11 Student joins the NHS Cadets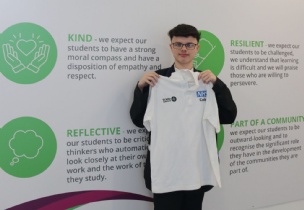 Year 11 student Connor takes part in new programme.
One of our Year 11 students is currently taking part in a new programme for young people interested in the healthcare sector. Despite being in his final year of secondary education, Connor has dedicated his spare time to learning different skills through the programme.
Connor said, "I first joined NHS Cadets in November last year, and ever since we have taken part in sessions every Tuesday to learn about the basics in St Johns Ambulance and nhs.uk This has included First Aid training and how to deal with patients. I have learned so many different skills within the programme which will help me in the future. I will be graduating on the 16th July 2022, and will be completing my First Aid training in the next couple of months. I will then be taking up a volunteer role at Alder Hey Hospital to help with the patients around the hospital. I would like to encourage the younger generation to join the programme in order to learn lots of new skills and develop an interest in the medical side too."