You Said, We Did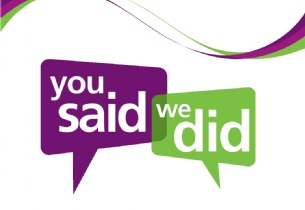 As part of the Student Voice You Said, We Did outcomes.
Canteen - You asked for more regular feedback on the menu choices, so we now review each menu in SV tutor time, and meet with the catering firm to feedback.
Careers - You said it was too difficult to get to Aspire to Be during lunch, so we have now changed it to dedicated sessions, chosen by you, during form times.
6th Form - You said you wanted a dedicated area for reflection and well being, so Mrs Dempsey, Mr Willerton and Mrs Doogan are exploring ways of utilising the available space to accommodate such an area.
Student support - You said you wanted some more people to talk to other than staff, so we trained our student mentors through PiXL mental health training to deal with such situations. They are located around the Academy during lunch and breaktime, and will be wearing a purple academy tie.
Rewards - You asked for more regular achievable rewards, so we now have a fortnightly attendance draw to win 2 Saints tickets for the corresponding home game.
Breakfast - You said to change the breakfast reward. We have changed it to 'Choose a friend to have breakfast with.'
Leaderboard's - You said we should have more regular updates. We have released leaderboard's fortnightly, and in assemblies.