Music for A Summer Evening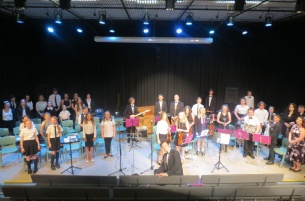 An evening of musical talent performed by our students.
On the 22nd June the Music Department held their Music For A Summer Evening concert. All students involved had worked very hard all year, preparing their wonderful performances and they completely excelled on the night. As well as a variety of beautiful instrumental and vocal solos, there were performances from the Academy Orchestra, who played four extremely well-rehearsed pieces that included the James Bond theme and I Dreamed A Dream (which was performed as a grand finale with the choir). The Academy Choir were on typically excellent form, entertaining the audience with 'A Disney Silly Singalong' and the classic 'Rhythm of Life'.
The Music Department would like to thank everyone involved and all who supported this fabulous evening.