An eventful year of DofE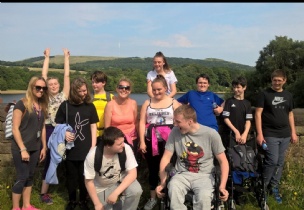 Students enjoy their Duke of Edinburgh's Expeditions.
The Duke of Edinburgh award, this year at The Sutton Academy started and ended on a high!
Back in October we had the pleasure of travelling to St James' Palace to be guests at the presentation of our first Gold Award received by a Sutton Academy student. Shane Baybutt was presented his award by Prince Edward and Olympic gymnast, Bronze medallist Kristian Thomas.
The usual DofE season then kicked off with the Year 9 bronze participants having their practice and qualifying expeditions. The overnight visits were relatively quiet, until the local barn owl decided to keep everyone up throughout the whole night.
This was followed by the year 9 and 10 gold groups taking part in their bronze and silver expeditions. The year 10 group carried out a walk along the Leeds to Liverpool canal.
The year has ended with the fantastic news that Rebecca Spriggs and Kiana Kabiri both receiving their Gold Award during a garden party at Buckingham Palace. Their certificates were presented, again, by Prince Edward but this time with Bill Bailey.