Rugby League Success for Year 10 Students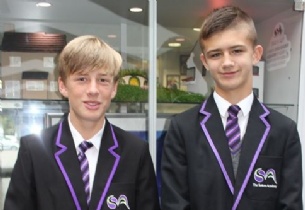 Year 10 students sign a scholarship for Saints RLFC.
Congratulations to Year 10 students Daniel Moss and Ellis Keppel, who have recently signed a Rugby League Scholarship with Saints. Both students were spotted playing for their local teams Blackbrook JRLFC and Newton Storm ARLFC.
Both their families and The Sutton Academy are extremely proud of their achievement, and wish them the best of luck with their scholarship.
We can now look forward to watching them in a few years time, playing for the first team!