Performing Arts treat!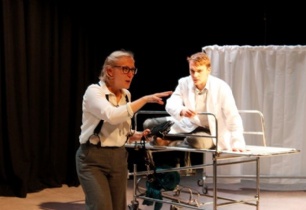 Box Clever Theatre Company come to visit.
What a wonderful treat to start the new academic year for our year 11 GCSE and 6th form BTEC Performing Arts Students! The amazing Box Clever Theatre Company re-visited us as part of our FRANK project and remained in residence to rehearse in our Arts Centre.
It was stunning to watch Iqbal Khan's directing (recently directed Anthony & Cleopatra at the RSC) and to be involved in the decision making process of the production. The actors – Jess Dennis, Jack Blakey and Riad Richie were astounding as they presented the adaptation so far, of Mary Shelley's Frankenstein to us. Pip Thurlow, Production manager further enhanced the rehearsal process as he speedily experimented and enhanced with new technical aspects.
The project has been an essential and important part of our students' learning, as they have witnessed first-hand, and learned, vital skills required to create unique performance work. It's already fantastic to see the ideas and work of our students coming to life through an already stunning and professional production.
We can't wait until October, when Box Clever returns to The Sutton Academy to showcase our final production of FRANK, on which we have also collaborated with 3 other schools from the North West. Well, I say we can't wait – it will also be really sad to see this project come to an end. Let's hope that the British Arts Council continues to fund such precious and valuable projects for our theatre makers of the future!