Reverse Advent Calendar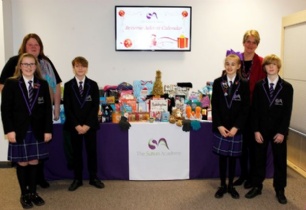 This year we are proud to help Sharon's Saviours by bringing festive cheer to vulnerable people.
Students and staff have been overwhelmingly generous with gifts, clothing and everyday essentials, for those in need in our community. Thank you to everyone who donated it will be greatly received.
Sharon's Saviours are a group of friends who go out twice a week in St Helens and Liverpool to provide a good chat, food, drinks, warm clothing, sleeping bags and tents to people experiencing extreme hardship in our local community.
This year they would also like to support the Salvation Army and the Young Mum's in St.Helens.