Erin's Art Gallery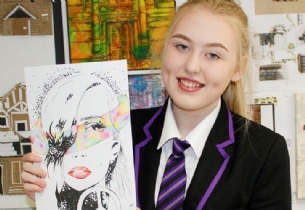 Year 10 student Erin Gerrard gets her own gallery on the Dot Art website.
We are extremely proud of our Year 10 student, Erin Gerrard who last year won the Overall Secondary School Winner (Year 9) of the Dot Art Schools 2016-2017 competition. From over 900 student entries, Erin's winning artwork, Intergalactic, was selected by a panel of art professionals, a public vote and by Guest Judge Susan M Coles.
The Dot Art website is now live to the public to view and buy Erin's artwork as an artist.
You can click here to visit Erin's page and have a look at some of her amazing work.