The Tenner Challenge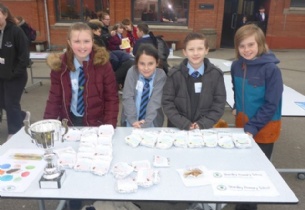 The 2018 'Tenner Challenge' reached its climax on Friday 23 March, and there was a real buzz around the academy.
Our Year 5 Primary school students said they had an amazing experience and look forward to joining the Academy in 2019! The smile on every one of their faces was enough to confirm the success of both the 'Primary apprentice event' and welcoming them to the 'Tenner Challenge' at the Academy. The Primary results are below:
Thatto Heath Primary (Revenue £36.10, Profit £26.10)
Sherdley Primary (Revenue £25.45, Profit £15.45)
Sutton Manor (Revenue £22.00, Profit £12.00)
Eaves Primary (Revenue £21.10, Profit £11.10)
On the evening of the 'Primary apprentice event' the panel judged Sherdley primary to be the winners.
As for our wonderful students, they have shown real character and entrepreneurial qualities during the last 5 weeks. They have developed many transferrable skills and had an experience which I hope will stay with them for life.
Our winners this year are Thomas Dickenson and Harry Clarke from Year 9. They changed their idea in week 2 to an Ice Cream shop and it was a huge success! Their profit totalled £91.30, Aaron Rigby came a very close 2nd with £90.00 with his Easter raffle.
All students will be given the results during assemblies next week and be presented with their winnings.
The Winner of Aaron Rigby's Easter raffle was Amelia Smith, Congratulations!
Can I thank all the staff who have contributed and been a huge part of a very successful 'Tenner Challenge 2018'. I hope both the 'Primary Apprentice' and 'Tenner Challenge continue into 2019 and beyond. - Mr Foley (Teacher of Business and Computer Science)