Design, Technology and Art Awards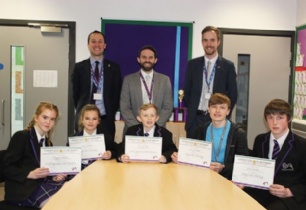 Students are rewarded for the outstanding achievements.
On Thursday 29th March 2018, winners of the Design, Technology and Art Faculty awards collected their certificates in recognition of their outstanding achievements. Pictured with Mr Willerton, Mr Purcell & Mr Beales.
Well done to the following students:
Food Award Winners
Harry Platt (Year 7)
Poppy Eccleston (Year 9)
Ellie McLaughlan (Year 12)
Design Award Winners
Paige Hodson (Year 7)
Leon Gardner (Year 10)
George Kintas (Year 12)
Art Award Winners
Mary-Jane Duffy (Year 8)
Lydia Hardman (Year 9)
Megan Mather (Year 13)
Check out more about what has been happening in the Design, Technology and Art faculty here.