Student of the Month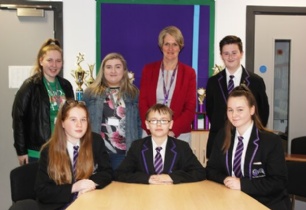 Students awarded for their achievements.
This award is given to recognise students who have made outstanding progress, excellent effort or gone above and beyond our high expectations. "Well done!"
The following students have successfully been nominated for April's Student Of The Month Award.
Year 7 – Robert-John Martindale
Year 8 – Thomas Beckett
Year 9 – Emma Peers
Year 10 – Gabriella Fair
Year 11 – Danielle Kelly
Year 12 – Amy Poole
Year 13 – Katie Prout
All the students have been awarded with a Principal's Badge.
Robert-John Martindale has been nominated for his continued grade 1 attitude to work and he has just scored a fantastic 90% in his latest science test. This is currently the top score in the year, beating all students in set 1. - Mr Sykes
Thomas Beckett has been nominated for his fantastic attendance. Tom has 0 behaviour points and always helps with every partnership and open evening, as well as being an amazing tour guide. – Miss Keenan
Emma Peers received 4 nominations for always trying really hard, not only in French where she consistently gets high marks in vocabulary tests, but she is also really well-mannered and pleasant, and a model student. – Miss James
Gabriella Fair has been nominated for constantly striving to do her best. Her behaviour and attendance are also excellent.
We as a year team have had numerous emails about Danielle Kelly, for super hard work and consistent effort despite how tired Year 11 are. Also, she has successfully completed her BTEC childcare course at a Distinction*. - Mr Hughes
Amy Poole is a hard-working and extremely conscientious student, Amy puts all her best efforts into her work. She has persistence and drive to achieve the best results and enjoys mentoring our Year 7 students. She is a credit to the sixth form. - Mrs Dempsey
Katie Prout has made fantastic progress this year having passed all of her external and synoptic examinations she is well on her way to achieving a B grade in the Extended Diploma in Health and Social Care, which means that she can progress on to her chosen university to study Primary Education with QTS. – Miss Hartley