Student Leader Presentation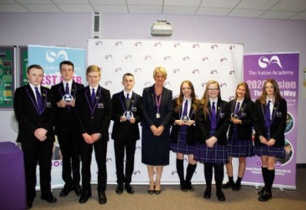 On Wednesday 9th May, we welcomed our Student Leaders along with their families and friends to an evening of celebration.
The evening was an opportunity for us to thank our current Student Leadership team for all their hard work throughout the year. We also welcomed our new Student Leaders from Year 10 into the role, and wished them the best of luck for their up coming year as leaders.
A great evening was had by all, with staff, students and their families enjoying a lovely buffet provided by the Food department. Thank you also for the amazing cakes supplied by Joseph Shaw and his family, they went down a treat!!
Year 11
Head Boy - Joseph Shaw
Deputy Head Boy - Isaac Poole
Head Girl - Charlotte Naylor Eaton
Deputy Head Girl - Eloise King
Year 10
Head Boy - Liam Littler
Deputy Head Boy - Lewis Hatton
Head Girl -Bethany Clarke
Deputy Head Girl - Mali Cooke