Badminton Competition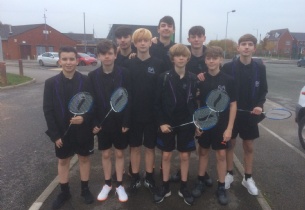 On Friday 16th November, Year 10 students took part in the St Helen's Schools Badminton Competition representing the Academy in the KS4 boys category.
The A team beat Cowley C 3-2, lost to a strong Cowley A team 4-1 but finished with a 5-0 victory against De La Salle B.
The team finished the group 2nd overall, narrowly missing a place in the Merseyside Finals. The B team also showed grit and determination in their matches where they were placed in a really tough group. They lost to experienced sides from DLS, Cowley and Hope Academy but came out with a thoroughly deserved victory against Rainhill A.
There was some excellent badminton played by each of the boys who played in both singles and doubles matches, a particular mention goes to Tom Ahearn who won all of his singles games.
Well done to all the boys who took part, you were a real credit to the Academy.