Year 7 charity support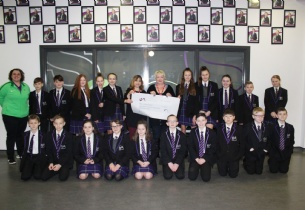 Year 7 students present a cheque for their chosen charity.
On Thursday 24th January, The Sutton Academy welcomed Gill and Esther from St Helens Mind.
They were presented with a cheque for £135.14 from funds that were raised by 7D's Christmas Charity Raffle. The tutor group organised this event as part of their PiXL programme.
St Helens Mind aim to support people aged 18+ who are experiencing mental health difficulties in St. Helens Borough so they achieve their full potential and play an active part in community life.​
Find out more on their website here.