Student rewarded with ticket to Saints!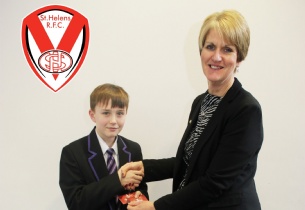 Congratulations to Ross Barnett who received a Leadership Team award for his hardwork and
dedication to his studies.
Ross is the first student to win 2 seats to watch Saints. He was delighted to be able to attend Saints v Wigan game last week. This was possible because after our Presentation Evening last July, Mr Purcell was bold enough to ask Eamonn McManus to donate some match tickets to the academy. His request resulted in Saints donating 2 season tickets to us. We will use these as prizes and rewards for individual matches over the coming months.