**FREE Breakfast for ALL**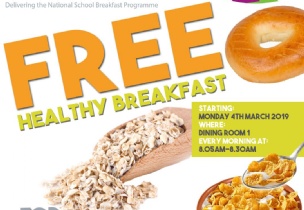 Starting Monday 4th March ALL students will be entitled to a FREE breakfast.
As we are sure you will agree, breakfast is especially important for young people to ensure their brains have the energy to think, learn well in lessons and give them fuel to exercise to keep healthy. We are keen to ensure that all of our students get a healthy breakfast each morning.
In order to support this, we are very happy to inform you that our academy has become a part of the National School Breakfast Programme from March 2019. We successfully applied to be part of this programme that is funded by the Department for Education through the soft drinks levy. It is delivered by the charities Family Action and Magic Breakfast, offering a free healthy breakfast to all students at the academy.
All students from years 7 to 13 will be able to enjoy a free healthy breakfast of bagels, cereal or porridge each morning from 8.05am until 8.30am in the dining room starting Monday 4 March 2019. In the first instance, breakfast items will be available on a first come first served basis. This will provide our catering team with the opportunity to identify breakfast trends and evaluate the popularity of the initiative.
We hope you will encourage your son/daughter to take up this great opportunity and attend our breakfast club each morning.