Careers Week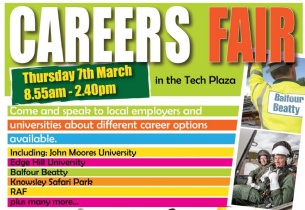 In line with National Careers Week, The Sutton Academy will be hosting our annual Careers Fair on Thursday 7 March.
The Careers Fair will showcase a range of employers and training providers across various employment sectors.
We are excited to be welcoming the NHS, the Co-operative, Balfour Beatty, and the Royal Air Force, alongside a number of other local and national employers and education facilities.
Students will be allocated time during the academy day to explore the Careers Fair and will engage with tasks and challenges to further their understanding of the options available to them.
Our Careers Fair is targeted at improving the level of careers education at The Sutton Academy. Evidence shows that this is an area that needs improvement in order to ensure that future generations will benefit from quality, meaningful interactions. This will then help them to understand the links between courses, skills and the pathways that they open up.