FREE Breakfast for ALL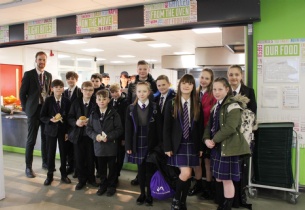 Students at The Sutton Academy have been enjoying breakfast items consisting of bagels, porridge and cereals this morning.
The academy has recently become a part of the National School Breakfast Programme which is a scheme aimed at providing students with a free healthy breakfast, fully funded by the Department for Education through the soft drinks levy and delivered by the charities Family Action and Magic Breakfast.
"Breakfast is incredibly important for our young people to ensure their brains have the energy to think, learn well in lessons and give them fuel to exercise to keep healthy."
Students were met by members of the staff body in the dining room between 8.05am and 8.30am this morning for the opening day of the programme. "We are incredibly proud of the provision that we are able to offer to our students and know that this will ensure that each students starts each day in the best possible way." - Mr Beales Curriculum Leader of Food Technology