Dance success for Year 8 Students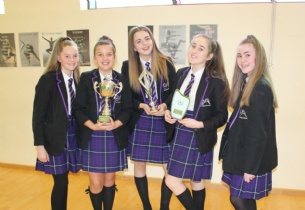 Year 8 students win Dance Competition in Liverpool.
Congratulations to 5 of our year 8 students who took part in the grand final of "That's Showbiz" last week at the M&S Bank Arena in Liverpool. Together with their competition team from Stage Factory they won 1st in the Mixed Section, came 5th Overall and also won the Adjudicators Choice in Tap.
Well done to Georgia Blakemore, Lydia Morris, Samantha Beard, Poppy Edmonds and Jessica Brayley.