Student Leader Presentation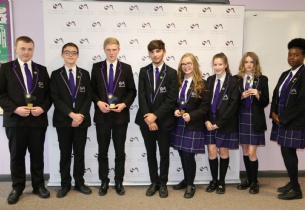 On Wednesday 19 June, we welcomed our Student Leaders along with their families to an evening of celebration.
The evening was an opportunity for us to thank our current Student Leadership team for all their hard work throughout the year. We also welcomed our new Student Leaders from Year 10 into the role, and wished them the best of luck for their up coming year as Leaders.
A great evening was had by all, with staff, students and their families enjoying a lovely buffet provided by the Food department.
Year 11
Head Boy – Liam Littler
Deputy Head Boy – Lewis Hatton
Head Girl – Beth Clarke
Deputy Head Girl – Mali Cooke
Year 10
Head Boy – James Rice
Deputy Head Boy – Joel Bailey
Head Girl – Ella Nield
Deputy Head Girl – Maria Lawal