Sports Week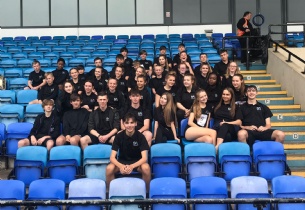 An exciting week of sporting activities for our students.
Day one of our Sports Week and students from Year 7-10 took part in our Sutton's Got Steel individual endurance challenge. Events such as shoot the hoop, cycling, an assault course, and one lap of the track to complete the challenge. Well done to all our students who took part.
Day Two of our Sports Week - Our students returned from a very competitive Town Sports Athletics competition. We achieved 5 silver and 3 bronze medals from both the track and the field events. All students that participated gave a really good account of themselves and the medal haul doesn't reflect just how much effort they put into their events.
We did have some really stand out performances - Neve Eaton in the shot put and discus, James Rice stepping up to cover a multitude of events in the senior competition, and Tom Ahearn who broke a long standing school high jump record with a leap of 1m 63 cm!