PiXL Edge Awards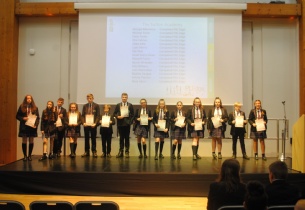 Students awarded at PiXL Edge Ceremony at Hope Academy.
Today I had the pleasure to taking 14 students who have completed the PiXL Edge apprentice programme. Their form tutor has selected them based on their ability to demonstrate the 5 key traits that will help them in life which are Leadership, Organisation, Resilience, Initiative and Communication.
The 14 students were:
Georgia Blakemore
Michael Fisher
Emily Foster
Alicia Harris
Ellie Holmes
Abbie Mills
Lydia Morris
Elle Platt
Jacob Sterry-Jones
Maxwell Taylor
Kieron Whittaker
Katy Williams
Leon Martindale
Felicity Fletcher
Well done to you all.
Special recognition must also go to Alicia Harris who won The Sutton Academy's Apprentice of the year award. Alicia has gained a great deal of confidence since beginning the PiXL Apprentice programme and has completed tasks such as writing a welcome letter to our new students and developing a healthy eating guide for students. As an academy we are extremely proud of Alicia and all our students who are involved or completed the PiXL apprentice programme.
Mr R. Hughes
(Achievement leader KS3)