Presentation Evening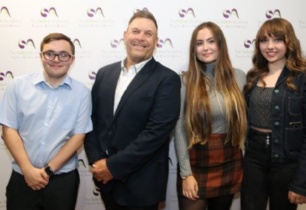 An evening of celebration at Totally Wicked Stadium.
On Tuesday 10 September, we invited our former Year 11 and Year 13 students along with their families, to celebrate their success and contribution to academy life.
The evening was an opportunity for us to award individual students for their Curriculum Achievements and Outstanding Attitude to Learning in their chosen subjects. We also had special awards such as Achievement Leader's Award, Principal's Award and Governors' Award.
Our Guest Speaker for the evening was Gary Conley who is a former Miner and is main spokesperson for Dream. Gary was one of the stars on Channel 4's 6 weekly TV series The Big Art Project which attracted more than 4 million viewers. His talk on the evening inspired not only our students but also their families too.
Once again two of our students provided the music on the evening. Emily O'Shaughnessy and Katie Hughes both gave a flawless performance accompanied by Mr York.
We wish all our students the best of luck, and look forward to hearing about their future success.