Bird Photography Experience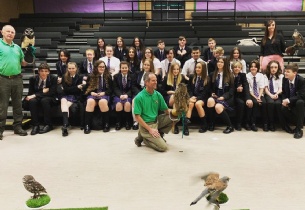 Year 10 GCSE Art students enjoy a morning with some birds of prey.
On Friday 20th, year 10 GCSE Art students had the opportunity to meet and photograph a range of different birds.
Amongst these birds were a Harris Hawk, Raven, Kestrel and a range of different owl species. The photographs taken by each of the students will be used in their art portfolios and in the next few weeks students will draw and sculpt their own 3D bird heads.