Year 7 Primary Event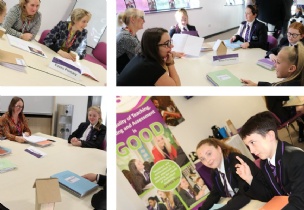 Year 7 students host a former Primary School Teacher's visit.
As part of our Year 7 Celebration Week, today we welcomed Headteacher's and Year 6 Teachers from Eaves, Sutton Oak, Thatto Heath and Willow Tree Primary School, who joined a group of our Year 7 students for an informal chat about how they have settled in to academy life, with the opportunity for them to show off all the good work they have produced so far. There was even time for a short tour, where students took their former Teacher's on a visit to Year 7 lessons that were taking place.