BBC Bitesize inspire students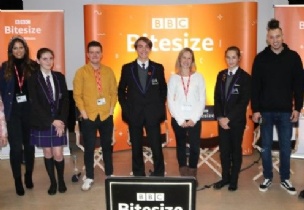 BBC Bitesize Schools Tour comes to the academy.
On Friday 22 November, we welcomed the BBC Bitesize roadshow to the academy to speak to our Year 9, 10 and 11 students about careers in the creative industries, and also to raise awareness of their website which contains help and information for students.
Hosted by BBC Radio 1xtra presenter Nick Bright, the workshop hosted a live panel discussion, featuring guests from local companies who work in the creative industries.
The panel answered questions on their day to day working lives, career highlights, their routes into their particular field of expertise and the skills they feel are essential. Students were then able to ask the panel their own questions.
The Bitesize tour offered a great opportunity to inform our students, in a fun and informative way.