Future Chef Final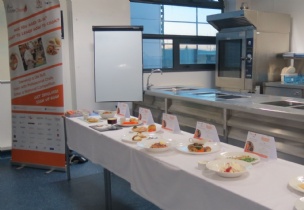 Year 9 students compete in the FutureCHef Final.
On Friday 29th November we had two of our Food students compete in the St. Helens Springboard FurtureChef final. They competed against 4 other students from other schools. We are extremely proud of Connor Ryan & Lucy Senior, as they have gone above and beyond the call of duty to perform in a very prestigious National competition. Unfortunately we came home with no winner, however in the eyes of TSA they are both winners! A massive well done to you both and your fantastic achievement!
Menus:
Connor
Main-Chicken, Carrot mash & Hasslebacks
Chicken served on a bed of carrot mash, green beans with garlic hassleback potatoes & a chicken skin crisp, served with an onion mascarpone sauce.
Dessert-Granola Apple Crumble
A warming apple pie with crunchy oats & granola. Served on a bed on raspberry coulis & fresh Cornish Clotted cream.
Lucy-
Main-Stuffed Chicken & fondant
A succulent chicken breast stuffed with a chicken fillet, sundried tomato & basil mousse. Served with fondant potato, carrots, tenderstem broccoli & gravy.
Dessert-Cookie Dough Cheesecake
A deconstructed vanilla cheesecake, served with cookie dough rounds and chocolate sauce.
Check out more of the photographs from the event in our gallery here.