SuttonStock 2020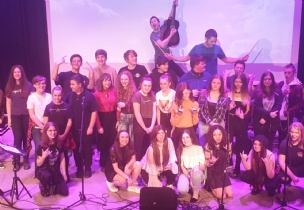 A music extravaganza performed by our students and staff!
On Thursday 16th January, students and staff performed in our annual SuttonStock show to a packed Arts Theatre.
The evening began with The Sutton Academy Voices performing We Will Rock You by Queen, which got the audience clapping along.
Following this we had some individual performances and bands performing throughout the evening. One of the highlights of the night was the Spice Girls Tribute band performed by Year 9 students.
We have some amazing talent at the academy and it was evident that the audience thought so too!
Well done to everyone who took part you did yourselves and the academy proud.
You can now view all of the acts from the evening on our YouTube channel here.