Students and staff get competitive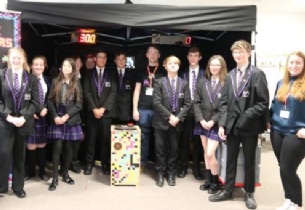 Made Invaders come to the academy!
On Wednesday 12 February, a group of students and staff were treated to a session of Made Invaders with Def Proc Engineering.
Made Invaders is a real life, full size shooting range, a cross between Space Invaders and Time Crisis. Housed inside of a 3㎡ enclosure with a firing range full of reactive targets designed and built using a laser cutter and housing electronics that react to impacts and display digital explosions. Players receive 30 seconds to hit as many targets as possible using safe foam darts, enabling children to play safely.
There was definitely some competition between students and teachers throughout the session. During the day a promotional video was filmed by Made Invaders, so watch this space for the final edit.