KinBall comes to the academy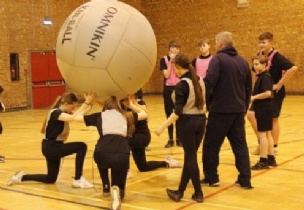 Students try out a new sport in a taster session by Kinball UK.
On Thursday 13th February, Year 9 students got the opportunity to try out a new sport when Steve Grace, CEO of KINBALL UK delivered a taster session in readiness for our Healthy Lifestyle Champions Festival.
Kin-Ball, is a team sport created in Quebec, Canada in 1986 by Mario Demers, a physical education professor, in which the main distinctive characteristics are the big size of the ball (1.22 meters in diameter) and that the matches are played among three teams at the same time instead of traditional one-vs-one like the most of the team games.
Students had a fabulous time and picked up the rules of the game really quick. Steve Grace said "More technical work to be added, in just one after school club they were fast learners and had a good game. Thanks for the invite Ms Lithgow."