Design a banner competition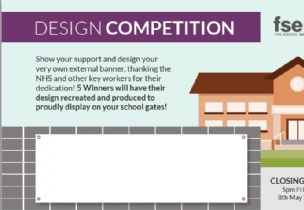 Deisgn your own banner to show support to NHS and key workers.
FSE Design are looking for students to design a banner which thanks and shows support to the NHS and key workers, for their dedication and hard work during this pandemic.

They will pick 5 winners, who will have their artwork recreated by their talented designers and printed on to a big 3x1m banner for us to proudly attach to our school gates!

To enter, you simply need to take a photograph of your completed worksheet and email it to rebecca.williams@thesuttonacadmey.org.uk alongside your full name, age.
If students do not have a printer at home, they are more than happy to accept photographs of entries drawn on plain paper!

DOWNLOAD WORKSHEET HERE.

The closing date is Friday 8th May at 5pm! Winners will be announced on Monday 11th May!
For more information, please visit their website www.fsedesign.co.uk and follow their Facebook and Twitter pages for updates.