A big surprise for The Sutton Academy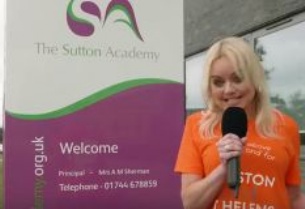 Staff at the academy get a massive surprise.
On Wednesday 1 July, staff at the academy got a fabulous surprise from Whiston and St Helens Hospitals Charity for all the support that has been given to the local community during the lockdown.
Read the story below to find out more:
As we celebrate the 72nd birthday of the NHS this Sunday, we're taking the opportunity to recognise the fantastic support we've had from our local community.
Today we surprised The Sutton Academy with the biggest thank you ever!
When our stock of safety goggles and visors was running low, this incredible team sprang into action making and donating vital PPE when we needed it most.
Check out what happened when our Charity Fundraiser, Claire Simmo, surprised them earlier today! Click here or visit our social media platforms.