Christmas Card Competition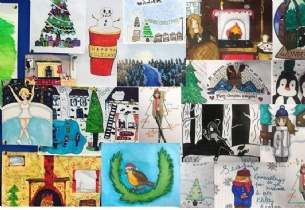 Merry Inkmass Christmas card Competition!
IT'S BACK!!! For the third year running, it's your chance to design the schools Christmas card, with the Merry Inkmass prompts 🎅🏻🎄
You have until Friday 13th November to hand in any of your designs to your art teacher!
Use the Merry Inkmass prompts to create your design!
Your designs should be no bigger than A4 size.
You can create your designs in any media you want e.g. ink, paint, fine liners, graphically, coloured pencils, posca pens, etc.
The more colourful the better! You might even want to try and put the schools logo into your design somewhere!
We can't wait to see all of this years entries, the competition is open to ALL YEAR GROUPS so let's keep that standard high and be as creative as possible!
1st Prize: Your design will be used as the schools Christmas card and you will receive 10 of your own Christmas cards design.
2nd Prize: Art supplies and chocolates.
3rd Prize: Christmas selection box.