Brake Road Safety Week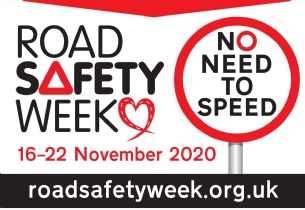 The Sutton Academy are shouting out that there is No Need to Speed this UK Road Safety Week.
We are taking part in the UK's biggest road safety event, Road Safety Week (16-22 November), coordinated by Brake, the road safety charity, and sponsored by Specsavers and DHL. This year, thousands of organisations, schools and community groups sharing the what, the why and the where of speed, because whether you're walking to school, riding on a country road or driving for work, the speed of traffic matters to your safety.
As part of the campaign, we will be making students aware of why the speed of traffic matters to their safety. By using our digital signage around school we will be promoting No Need To Speed.
Speed is important because it plays a part in every death and injury on our roads. The formula is simple: the higher the speed the harder the crash and the greater the risk of death and injury. This year's Road Safety Week theme, 'No Need to Speed', is a reminder to everyone of how the speed they travel affects other people.
Brake is urging everyone to remember that speed matters for everyone's safety, health and wellbeing. By taking part in Road Safety Week, you can help inspire people to learn what safe speeds are, schools to teach young people about how their local streets can have safer speeds, and organisations to step up their policies and procedures to ensure that their employees always travel at speeds that are safe and appropriate for the roads.
Josh Harris, director of campaigns at Brake, said: "In a crash, just 1mph can mean the difference between life and death, but sadly we know that many people still regularly break the speed limit or travel too fast for the conditions of the road. With someone injured on a UK road every four minutes, and vehicle speed playing a part in every crash, it's never been more important that we all shout out that there is No Need to Speed."