Year 7 student wins big!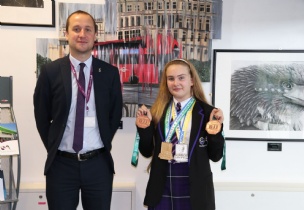 On the road to glory with Year 7 student Hannah.
Year 7 student Hannah competed in the Brazilian Jiu-Jitsu European championships last weekend. In the Gi she was awarded a Silver, this in itself is a fantastic achievement. But the following day she went in for the NoGi. The result being a GOLD medal. She is now the European champion for NoGi in her category.
Hannah also has 2 Bronze Medals these are from the National Championships held in Manchester. She had to flight in the boy's category who were 2 years older than her and much heavier. The lowest was 8kg heavier. Hannah also does Krav Maga, which is combat sports/Street defence, she has also started kickboxing.
She trains at Hamma Brazilian Jiu-Jitsu Academy, Hamma Youth Acadamy of Martial Arts North Road, St.Helens.
"She was absolutely amazing with no fear whatsoever. She is determined to go further in this Sport and we are giving her all the support and encouragement she needs. She has been working in the gym 6 days a week, which is pure dedication. She truly is an inspiration, we are so proud of all she has achieved so far and her thirst for wanting to learn more." – Tracy and Marvin (Hannah's Parents)
Everyone at the academy are incredibly proud of what Hannah has achieved, and we look forward to seeing how future success.