Youth Open Art Exhibition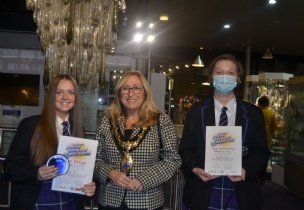 Some of our wonderful art students took part in the Youth Open Art exhibition 2021 from Key stage 3 and 4.
Entries consisted of beautiful pieces from Painting, Collage, Photography and Drawing. Their artwork is on exhibition in The World of Glass until January.
We also had 2 students from Year 11 Lydia Morris and Fearne Cartledge who were chosen in their categories as overall winners. Chloe Pyne was given a special award and mention for her bravery on creating a piece based on the 97% and Elizabeth Lewis was given a special award for creativity and composition.
Students attended a prize giving ceremony on Friday 12th November where they received an award from the Mayor at the World of Glass.
We are incredibly proud of all of our students involved.