Rickshaw Challenge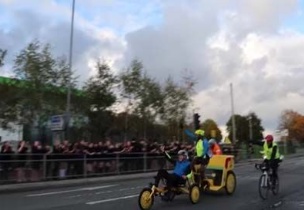 Supporting the Rickshaw Challenge.
On Tuesday 2 November we were privileged to support the BBC Children in Need Rickshaw Challenge, with students from our extra-curricular clubs cheering on.
The Rickshaw Challenge was completed by TV Presenter Matt Baker along with Rainbow, a blind athlete who has been supported by Children in Need.
BBC One's Rickshaw Challenge is made up of a team of 5 young people, all of whom have been supported by Children in Need. This challenge is supported by the One Show and over the past eight years the challenge has raised £41 million.