Anti-Bullying Week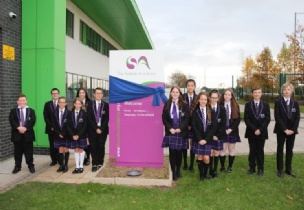 Celebrating Anti-Bullying week at the academy.
Staff and students at the academy started the week off showing their support for Anti-Bullying Week with an Odd Socks Day. The theme for the week was One Kind Word.
Our Anti-Bullying Ambassadors arranged a number of activities to raise awareness of for Anti-Bullying. One of our Year 11 student leader's Abbie worked with our Year 8 media students to report on how the team get on throughout the week. One of the tasks was making a Drop Box to place at hot spots around the Academy. These will be monitored regularly by the Anti-Bullying team.
During the week a graffiti board was put together so that everyone could add their One Kind Word to. We also lit the academy up blue in support of this important message.