BBC Bitesize Roadshow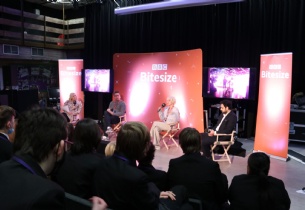 BBC Bitesize visit the academy to talk to our students about careers and aspirations.
On Monday 29 November we welcomed the BBC Bitesize Roadshow, hosted by Radio 1 DJ Katie Thistleton to talk to students in years 7-10 about Careers and Aspirations. Katie chaired a panel of 3 guest speakers who talked about their careers, career highlights, their routes into their field of expertise and the skills they needed.
Students enjoyed listening to the different careers and had the opportunity to ask some interesting questions for the guests at the end.