Staff complete the Challenge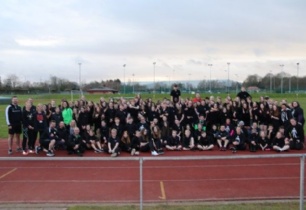 Academy staff Run The Month for charity.
It has been a challenging month for 40 members of staff at The Sutton Academy, who endured all weathers to complete their respective miles for the 'Marathon in a Month' Challenge for Prostate Cancer UK.
On Monday 31 January, these staff members were overcome with positivity and encouragement from 124 students from the academy who came down to the sports track, despite the cold weather, and ran the final miles with them. The students were outstanding and really supported staff with words of encouragement, whilst as a team - staff and students completed their laps around the track.
A guard of honour and applause from the students fired up the staff when arriving at the sports track and also when they collectively finished those final 6 laps. The students stood for everything we believe at The Sutton Academy and showed kindness, resilience and being part of a community; which is the heart of what we are about at The Sutton Academy.
The staff have managed to raise awareness for Prostate Cancer UK but not only that, also raise a staggering £4,626 for the charity and would like to thank everyone who donated towards the cause.