Awards Evening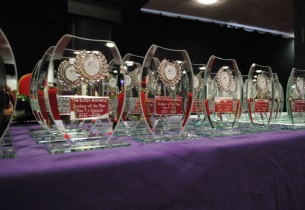 An evening of celebration for students and their families.
On Monday 11 July we welcomed students from Years 7, 8, 9, 10 & 12, along with their families, to the Totally Wicked Stadium for our Annual Awards Evening.
This was an opportunity for us to recognise the achievements of many of the students over the past academic year and to thank them for their contribution to the academy. The evening included awards for subject specific Student of the Year, Academy Values Awards and other Special Awards which included Achievement Leaders Award, Principal's Award and Trustees' Award. Staff spoke about our individual Special Award winners along with the criteria that the students met to be nominated.
Our Guest Speaker for the evening was Tara Jones, both a St Helens and England international rugby player. Tara is also a Rugby League Match Official and a Community and Development officer within the Saints Community Development Foundation. Tara delivered an inspiring talk to a full capacity room on how she started her career and the setbacks she overcame to help push her forward to the success that she has now achieved.
During the evening, our music department provided some wonderful entertainment with Year 11 student Summer performing two songs.
The evening was a fantastic event, and we look forward to the next Academy Awards in September, where we will be celebrating the success of Year 11 & 13 students.
For photographs from the evening please visit our website gallery.