World of Glass Trip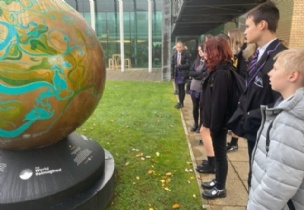 Students make their own globe.
Students in the Academy from Year 8-13 who worked on The World Reimagined project were given the opportunity to create their own glass globe at our local world of glass.
Students were shown a demonstration of blowing glass and the process behind glassmaking before they were able to create their own glass globe inspired by an emotion and environment that was important to their life.
Our globe will be on exhibition in the world of glass throughout November.
As always our students enjoyed the experience and workshop and were a credit to the academy.