Pedestrian Access Update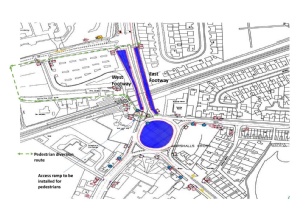 Changes to the pedestrian access and walkways to/from the academy - Started today, Thursday 19 January
Confirmed - from today, Thursday 19 January, the pedestrian access and walkways to/from the academy will change. This is due to the ongoing construction works to the roads in the local vicinity.
Access to and from the Bull & Dog roundabout, and the surrounding areas, will now need to be via the pathway through the train station, into the side road on the housing estate and along the new walkway next to the small train station car park.
Please see the attached map for details.
As always, staff will be on duty before, and at the end of, each academy day to support students in accessing this new route safely.
If applicable, please can we ask that you share this information with your children, ready for Monday morning.