Masterclasses with Matty Smith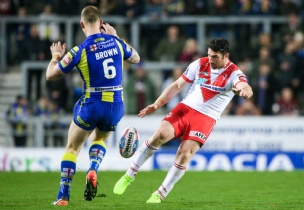 Learn rugby league skills with ex professional player.
We are pleased to announce a fantastic opportunity for students at the academy, working with ex professional rugby league player (St Helens RLFC and Wigan Warriors) Matty Smith.
Matty has recently taken on the role of head coach for St Helens RLFC Women's first team and is offering his skills and expertise in rugby league, to provide the opportunity for students to participate in specialist masterclasses learning rugby league skills. The sessions are open to current rugby league players who may play outside of the academy, and also to students who may have never participated before who would like to learn new skills and work with a professional sports person.
The sessions are free of charge and will run from 2.45pm - 3.45pm on the following dates:
Girls Sessions:
Tuesday 24 January 2023
Tuesday 31 January 2023
Tuesday 7 February 2023
Boys Sessions:
Wednesday 25 January 2023
Wednesday 1 February 2023
Wednesday 8 February 2023
Please note, these sessions will run outside and students will be required to bring outdoor clothing, including leggings/jogging bottoms and layers. They will all need to be plain black please. In the event that the pitch is frozen, we will bring the sessions inside.
If your son/daughter would like to participate in the following sessions please can they see Mrs Egerton to confirm their place, so that we can plan accordingly for the number of participants.
If you have any further questions regarding this opportunity, please do not hesitate to contact the academy on 01744 678859.