Staff Charity Football Match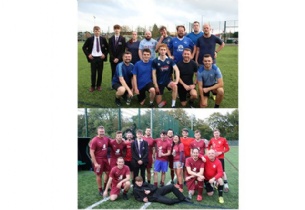 The Sutton Academy staff Charity Football Match report!
The game started very cagey as both teams looked like they were too scared to lose. That was until a Mr Blakemore screamer of a free kick was perfectly struck past a hopeless Mr Greenslade to put Bearns United 1-0 up. Bearns United continued to pile the pressure onto Sutton Green Rovers until the end of the first half. However, no other goals were scored, with Mr Tootle's shot nearly going out for a throw in.

A half time team talk completely switched the game in the 2nd half, with Sutton Green Rovers manager Archie Cooper opting for a different shape.

The 2nd half started similar to the first with both teams starting slowly. A chance eventually fell for Mr Traynor on the half volley, who slotted it perfectly into the bottom corner past Mr Friar to level the match.

Not long after, a long ball was chased by Mr Sawyer, who rounded Mr Friar and buried it to put the Rovers 2-1 up.

It was then a long 5 minutes for Sutton Green Rovers fans as Bearns United snapped back very quickly but were unable to find the end product. That was until Mr Crowder scored a goal that was worthy of winning any game of football, having his shot come off the underside of the bar and go flying into the net. Mr Greenslade had no chance. 2-2.

However, the Bearns United comeback was short-lived as a cross came in from the wing that went through Mr Friar's gloves and was then turned in by an unfortunate Mr Purcell's own goal after he felt he had to do something to stop Mr Traynor from getting on the end. 3-2 to the Rovers!

From then, Bearns United capitulated. It was a defensive error from the defence that left Mr Sawyer one on one with Mr Friar, who calmly slotted it past the United keeper. 4-2 to the Rovers!

Finally, with the last kick of the game, Mr Traynor found himself one on one with Mr Friar, who sweetly struck it past the very busy Bearns United keeper. 5-2.

Final Score: Sutton Green Rovers 5-2 Bearns United
Goalscorers:
Sutton Green Rovers - Mr Sawyer (2), Mr Traynor (2) and Mr Purcell (og)
Bearns United - Mr Blakemore, Mr Crowder

The amount raised for the charity was over £550, with the attendance in excess of 400 people.
Match report: Archie Cooper
Coming soon match highlights on YouTube/Social Media.