Student wins competition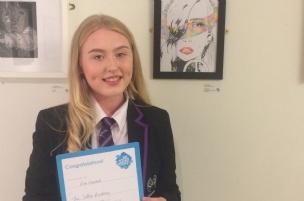 Year 9 student Erin Gerrard wins regional art competition.
This year The Sutton Academy Art department has entered our year 9 GCSE art students into the 2017 Dot Art competition, where they have competed with other secondary schools across the region.
The Dot Art competition has been a fantastic way to display our students creative talents and it has given the students the opportunity and platform to showcase their own original pieces of artwork.
This year has been a huge success as Erin Gerrard, year 9 Art GCSE student won the top prize after entering her artwork, titled Intergalactic, into the competition.
Erin produced an A4 graphic portrait using a combination of bright colours and different mediums.
"The reason behind the name of my drawing 'Intergalactic' was the use of tipex acting as stars, and bright colours as galaxies.' Erin.
Amongst her prizes are a scholarship to dot-art where she can showcase and sell her artwork, tickets to see the latest exhibitions at Tate Liverpool, art supply vouchers, and a scholarship for Liverpool John Moores University.
For more information on the dot art competition visit their website here.