The Big Brew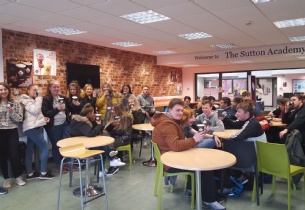 Staff and Sixth Form students join together for The Big Brew Monday.
After leaving the the Healthcare profession I remained a member of NHS Merseycare Board. They are working with Zero Suicide Alliance to help end suicide. Now the Director of Sixth Form where better to show our support by using the power of our Social media to help save a life by supporting the Big Brew and joining the Thunderclap.
At The Sutton Academy we think it is really important for our students to be aware of the social issues that could touch lives at any point, and I am extremely proud of all the students who have enjoyed a #brewfie to support such a worth while cause.
Mrs Dempsey
Director of Sixth Form